Choose Your Wedding Anniversary
1
The occasion of your first wedding anniversary calls for a gift that is equally beautiful, and what better than the traditional choice of gold and glimmering peridots.
2
Bring home exquisite garnet jewelry and celebrate the completion of two wonderful years of marriage with this gem's intense red hue. Explore our collection now to find the perfect gift.
3
Celebrate this beautiful day of love with a lustrous pearl – the traditional gem for the third wedding anniversary. Take your pick from Freshwater, Akoya, South Sea and Tahitian pearl jewelry.
4
Plan to surprise your wife with a gorgeous gift? If yes, then you can't go wrong with the stunning blue topaz, which is the traditional gemstone for this happy occasion.
5
Let sapphire and pink tourmaline jewelry make the occasion of your fifth wedding anniversary even more memorable. Pick a stunning gift from our collection and go surprise her.
6
Dazzle her with spectacular amethyst jewelry on your sixth wedding anniversary. The traditional gemstone associated with this occasion will brighten up her day in no time!
7
Celebrate seven years of togetherness with stunning black onyx – the traditional gemstone for this joyous occasion. Explore our jewelry collection today to find a gift that'll make her smile.
8
Wondering what to pick for commemorating your eight wedding anniversary? Pink tourmaline or tanzanite, the traditional gems for this occasion, may just be what you need. Take a look now.
9
On your ninth wedding anniversary, let the royal purple brilliance of an amethyst sweep her off her feet. Explore our wonderful collection now to find the perfect gift.
10
Celebrate this wonderful milestone of your life with stunning diamond and blue sapphire jewelry from Angara. Every piece in this extensive collection has been crafted with utmost love!
11
Show her your love and appreciation by gifting her a fabulous 11th anniversary gift adorned with vibrant citrines. This traditional gemstone for the occasion never fails to bring a smile.
12
Opal, the traditional gemstone for the 12th wedding anniversary, dazzles everyone with its vivid play-of-colors. On this grand occasion, gift her this lovely jewel and watch her eyes light up!
13
Doesn't this wonderful milestone deserve an equally vivacious gift? So go ahead and celebrate your 13th wedding anniversary with jewelry embellished with gorgeous citrines. Take a look now.
14
Opal is the traditional gemstone for the 14th wedding anniversary and a wonderful gift to celebrate this joyous occasion. Go ahead and show your love with this exquisite jewel.
15
Ruby and garnet are both the traditional jewels for the 15th anniversary. Choose a gift adorned with one of these gorgeous gems and make your special day even more memorable.
16
Angara offers a wonderful assortment of jewelry adorned with peridot – the 16th anniversary gemstone. Take a look, you're sure to find something that fits your style and budget.
17
Make her fall in love with you all over again by gifting a gorgeous piece of jewelry adorned with pink tourmalines. This 17th anniversary gemstone will certainly make her blush!
18
Eighteen years of togetherness is no ordinary feat. Create new memories on this special day by bringing home jewelry embellished with aquamarines – the 18th anniversary gemstone.
19
Celebrate your better half and the bond you share with exquisite garnet or aquamarine jewelry by Angara. Choose from a multitude of styles and surprise the love of your life!
20
Love is priceless and to have someone to share it with makes life truly worthwhile. On the completion of this grand milestone, gift her stunning jewelry adorned with precious emeralds.
21
On the occasion of your 21st anniversary, why not light up her day with heaps of colors? Bring home gorgeous opal jewelry and let its beautiful hues work their magic!
24
A beautiful and rare kind of love deserves a jewel that's equally precious, so why not celebrate your 24th wedding anniversary with brilliant tanzanites! View our amazing collection now.
25
Silver is the traditional gift for the 25th anniversary and you can make this truly extravagant by adorning it with precious gems. Explore our collection for amazing jewelry options.
26
Let the brilliance of tanzanite take over and make your 26th wedding anniversary even more memorable. Explore our collection and choose your gift from a multitude of gorgeous designs.
28
Amethyst, the traditional gemstone for the 28th anniversary, is renowned for its royal purple hue and scintillating brilliance. It's certainly the perfect gem to surprise her on this special day.
29
Fill her day with the sparkle of a garnet, and make your 29th wedding anniversary a time she'll always remember. Find flawless jewelry crafted to suit every budget right here!
30
Let your love and appreciation glow like a pearl on this special day. Celebrate this important milestone of your relationship with a gift from our exquisite pearl collection.
31
Thirty one years of togetherness is worth a grand celebration, so why not gift her an equally grand jewel? Go ahead, surprise her with jewelry embellished with gorgeous diamonds!
33
Show your love and admiration for your lady with the help of intense purple amethysts. Whether you pick a ring, earrings, pendant or a bracelet, this jewel will not disappoint!
34
On the occasion of your 34th wedding anniversary, gift her opal jewelry and fill her day with a vivid play-of-colors. Explore our gorgeous collection featuring this unique gem right away!
35
On the day of this joyous milestone, let the green brilliance of emeralds sweep her off her feet! Take your pick from exquisite designs crafted with love and utmost precision.
36
Diamond, the traditional gemstone associated with the 36th wedding anniversary, is the perfect gift to make her smile! Explore our vintage and contemporary designs to find her the ultimate sparkler!
37
Wondering what to gift your wife on the completion of thirty seven years of togetherness? Angara's assortment of exquisite diamond jewelry has the answer. Take a look now.
38
Pink tourmaline is the gemstone for the 38th wedding anniversary, and a great gift to make her smile. Explore our collection now to find something that perfectly suits the occasion.
40
Celebrate 40 years of togetherness with luxurious rubies and make this joyous occasion truly unforgettable! Pick the perfect gift from our collection of flawlessly crafted jewelry pieces.
41
Blue topaz, the gemstone for the 41st wedding anniversary, resembles the beautiful sky on a summer day. Pick a gift adorned with this marvelous gem and watch her smile endlessly!
43
The truly unique and glorious opal is the traditional gemstone for the 43rd wedding anniversary. Bring it home on this special occasion, and watch her eyes light up!
45
Completion of 45 years of togetherness is a grand occasion. Make this important milestone more beautiful by surprising your lady with gorgeous jewelry adorned with pink or blue sapphires.
46
Looking for the perfect gift for your spouse or a couple who is celebrating their 46th wedding anniversary? If yes, then get your hands on classy and timeless pearl jewelry!
47
The stunning purple-hued amethyst is the traditional gemstone for the 47th wedding anniversary. It's also a great gift for celebrating your precious bond. Come, explore our gorgeous collection right away!
50
Celebrate this grand milestone of your life with an equally precious gift of pearls. View our extensive collection today and choose from a multitude of gorgeous jewelry designs.
51
A bond so strong deserves an equally remarkable gem, and sapphire fits the bill perfectly. Whether you're looking for something simple or extravagant, we have it all. Take a look.
52
On the 52nd anniversary, give her the gift of timeless elegance in the form of precious pearls. Explore our extensive collection to find something that fits your requirement and budget.
55
A flawless piece of jewelry adorned with sparkling emeralds will be a gift she'll cherish forever. On your 55th wedding anniversary, surprise her with this jewel and make her day.
60
Be it your parents or grandparents, the 60th wedding anniversary is a significant occasion. Celebrate their beautiful journey together by surprising them with a stunning diamond gift from Angara.
Women Wedding Bands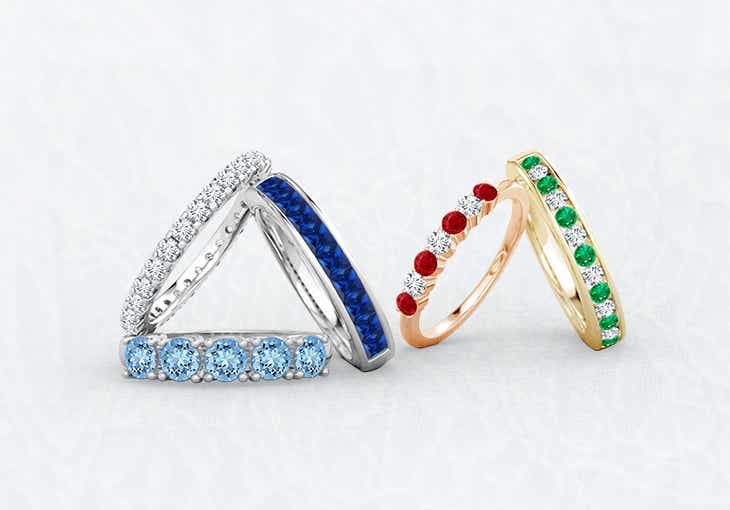 Men Wedding Bands