Tips on Buying Baby Jewelry
---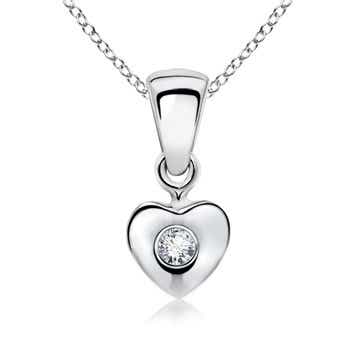 Birth of a newborn is one of the most joyous occasions. It is an event of pride, emotions and happiness for the entire family and friends. Family members shower the newborn with love and gifts. If you are a close relative or a loved one, Angara has the perfect Baby Jewelry gifts for you. These gifts are cute and a great memento cherished forever.
Our baby jewelry is designed for toddlers, who have such delicate skin. They are made with the highest caution of safety and security - the metal is hypo-allergic, the clasps and closures are securely fastened and there are no sharp edges.
Baby jewelry
collections include baby bracelets, baby pendants, baby studs and baby charms.
You can even choose baby studs for the newborn. Usually, parents get their baby's ears pierced at a very young age. By buying a pair of baby studs, the toddler will look cuter, and they will get used to the earrings. You could choose from gold studs, platinum studs, diamond studs or colored gemstone studs. Additionally, if you plan to get gemstone studs, a great idea will be to buy studs of their birthstone. You will be appreciated not only for the lovely gift, but also remembered for the sweet gesture.
However, if you uncertain about baby studs, you can also choose baby bracelets. Most parents make their babies wear cute baby bracelets. These bracelets have symbolic and religious significance in many cultures. Along with the bracelet, you can even get baby charms. Keep in mind, baby bracelets can have sizing issues as the babies are bound to outgrow their bracelet. If this concerns you, the perfect baby jewelry gift from your heart will be a baby pendant. By extending the chain over a period of time, these baby pendants can be worn into their teenage years as well. Options include diamond pendants, gold pendants, platinum pendants or gemstone pendants. Birthstone pendants are a great gift idea.
Finally, you can also make a set with baby studs and a baby pendant. Babies and their parents will cherish these gifts of love for a lifetime.
You may like also to read: