Tips on Buying Bridal Jewelry
---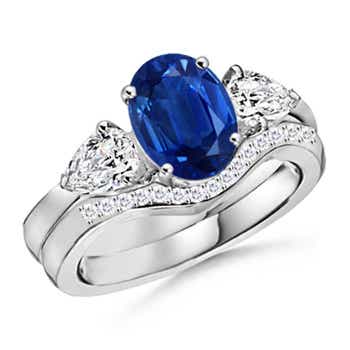 Quick Tips:
Budget:
You do not have to break the bank for your jewelry purchase. As a direct source, we have the most economical offers and the most beautiful designs as well.
Personality:
Choose jewelry that reflects your style and personality.
Coordinate:
Do not overwhelm your gown with too much jewelry. Often times, the simplest jewelry can complement your dress.
Neckline:
Focus on the neckline of your gown. As a rule of thumb, V- necks ask for a necklace. For a wedding gown with a deep neckline, jewelry with large pendants will be the preferred choice. If your gown has a closed neck in the front, then you can add beauty with dangler earrings.
Hairdo:
Decide your hairdo in advance. Longer earrings go well with hair above your face. Studs complement longer locks of hair.
Color:
With modern brides steering away from traditional whites, you can consider matching color diamond jewelry. Even with white, the contrast made by colored gemstones or with diamond jewelry is very appealing. When completely uncertain, go with the universal diamond or pearl jewelry.
Your wedding day will be one of the most important days of your life. Now that you have the best buying
bridal jewelry
tips, take your time in choosing the right bridal jewelry for you. Select jewelry that can be worn with other dresses after your wedding.
On your wedding, the time of the day that your ceremony starts may effect your jewelry decision. If your ceremony is in the morning, flashy jewelry may look out of place. Elegant, classy and trendy jewelry is the recommended choice. On the other hand, for evening weddings, colored gemstone jewelry will look the best. The gemstones will enhance your skin complexion and wedding dress.
Plan ahead. If you are buying jewelry online, take advantage of the 30-day return policy, In fact, Angara has a 30-day return policy from the ship date as opposed to the typical purchase date. By having this policy, you can always exchange your jewelry with additional time.
For the bride's mother, observe what kind of jewelry she wears, including metal type and diamonds or colored gemstones preferences. She may have additional desires that you may not be aware of, so ask her about her ideal bridal jewelry. Some women may not have worn ruby, sapphire or emerald in the past. If they did, they will look surprisingly stunning.
Being a direct source, jewelry is available at affordable prices today. In the past, emeralds were reserved for royalty. Along the same line, sapphires were the popular romance of the British Crown. Additionally, if you are buying gemstones yourself, educate yourself on how simple variances can change the price significantly. A trusted jeweler such as Angara always offers a Certificate of Authenticity with their jewelry, so you'll know exactly what you are receiving.
Relevant for many, Angara allows you to design your own bridal jewelry. You have the freedom to indulge yourself and wear truly unique jewelry items.
You may like also to read: