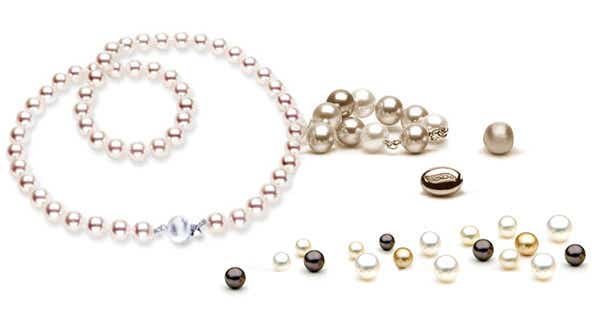 How to Care pearls Jewelry
Treasure your pearls forever with our expert caring guide.
1. Avoid scratches
Saturated with incredible luster and sophistication, pear rings, necklaces and earrings are staples of most women's jewelry collection. It exhibits a celestial and organic radiance with sophistication. Interestingly, different kinds and styles of pearl jewelry add a touch of nature-inspired beauty to brides-to-be. Either you choose a classic, vintage look or opt for contemporary bridal attire, you can never go wrong with this June birthstone. In fact, pearls are leading epitomes of elegance and feminism. They make you the center of attention wherever you go and whatever outfit you wear.

Due to their formation from living sea organisms in freshwaters, these splendid beads are vastly treasured and have gained timeless eminence in jewelry world. Whether natural or cultured, they unveil stupendous and classy charm that every woman possesses. While Natural pearls are rare-to-find and incredibly beautiful, cultured pearls are created and grown manually but share the same composition and properties as that of organic ones.

Today, there is an extreme demand for cultured pearls as they are used to create designer pearl jewelry. Fashioned in contemporary designs and styles, designer pearl rings and pendants preserve the timeless and cultivated elegance. The best among them are Akoya Cultured Pearls. They are indeed most popular among all generations. Primarily found in Japan and China, Akoya pearls are top, finest quality with symmetrical shapes and sizes. They look very similar to Freshwater beads and are exceptionally smoother and lustrous. With a superb white and off-white color, these cultured grains consists of stunning overtones of rosé, silver and cream. You can find a vast variety of Akoya Cultured Pearl jewelry here in state-of-the-art designs and at best-ever prices.

From solitaire pearl rings to designer pearl earrings to pearl dangle pendants, you may find every style at our website. If its glitz and glitter you are after, there are outstandingly brilliant pearl and diamond statement pieces to complement your look. Cute and dainty round beads are set in gorgeously styled diamond encrusted shanks and chain pendants. Pearl and diamond heart necklaces and pearl by yard necklaces unroll uniqueness and urbanity. Layering of pearl necklaces is another royal jewelry style. These sea beads exhibit chic fashion when worn in varying lengths.

Further, they can become your dearest possessions when given and received as engagement rings and wedding bands. This naturally-occurring and manually-formed substance (inside sea mollusks and oysters) is a spectacular bridal accessory. Many young and modern brides-to-be adorn with pearl and diamond earrings on their big day. Honestly, they set out divinity and asceticism while a bride walks down the aisle.

Our favorite A-list stars are avid about this July birthstone. Every year, most red carpet events record distinctive pearl sparklers donned by various starlets. Since you have countless options while making a pearl purchase, you can learn to be versatile with your jewelry collections. Lots of stackable rings and overstated bracelets in pearl enhance your most boring outfits. All rainbow colors go well with beaded details and add an eye-catching sparkle. Cultured pearls are available in several vibrant and pastel colors like snow white, cream, muted pink, black and grey.
Tips to Caring for Pearl Jewelry
Since pearls are organic and found inside seashells, they require special care and attention. They are averse to chemical present in perfumes, cosmetics, household cleaners, and daily care products.
Do not lock your pearls in plastic bags as they emit synthetic substances and gases, which ruin the color, luster and durability of July birthstones.
Avoid rubbing your jewelry with abrasive materials like toothbrush and cleaning pads that are advertised as 'soft and gentle.' Keep your rings, earrings and pendants in different slots of your jewelry box. Store them in cotton, muslin cloth or velvet pouch.
Never leave your favorite pearl jewelry around heat sources and under prolonged sunlight and snowfall. While excessive heat tarnishes the shine, moisture leaves smears and taints on the beads.
Last In First Out is the mechanism for a long and lustrous life of pearls. Remember to put them last when dressing and remove them first when you get home.
Clean them with mild soapy water and use a soft tissue to wipe off. Avoid any strong cleaning solution like bleach or ammonia.
Do not give your pearls any ultrasonic treatment or rigorous cleaning.
They are most precious gifts from the sea and thus, take extra care for them to shine longer and forever.
You must reach out a professional in case your jewelry turns grey and loses its shine very early. Professional cleaning and polishing from time to time is a must if you want to bequeath your gorgeous jewelry to your daughter or daughter-in-law.
Pearls may dehydrate if left in an air-tight safe for a long time, so be sure to use them often.