Gemstone Bliss: Sapphire or Diamond?
---
When it comes to the top most desirable gemstones, diamond and blue sapphire show a stern competition. Diamond provides an instant uplift to the outlook but then Sapphire makes it stand out in crowd altogether. But diamond will go with almost any attire! Sapphire will totally justify your instincts of making your presence noticed!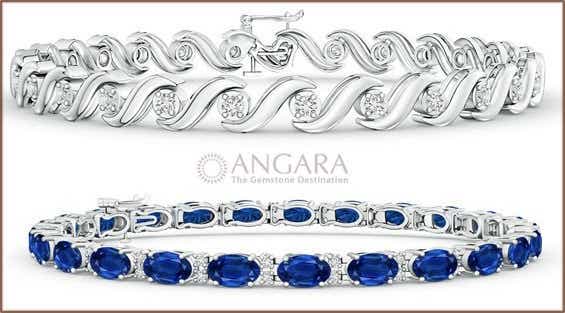 Sapphire Vs Diamond – Which One Should You Buy?
The Dilemma: Sapphire or Diamonds?
Now the question remains what to choose between the glittering diamond and the sensuous sapphire. One is sure to get a fair preference for both stones. While diamonds score high due to their dazzle and shimmer, sapphires make up for their brilliant color that is simply breathtaking. Most often women who prefer vibrant colors and love to incorporate that in their jewelry prefer sapphires while ladies who enjoy the breathtaking shimmer of diamonds will have it no other way but this. The selection depends entirely on one's personal liking and taste in jewelry.
The most interesting fact remains that there is not much to differentiate between diamonds and sapphires. Be it their stand on hardness sale which concludes diamonds to be the hardest while sapphires score second or their characteristics involving their sturdy and durable nature.
The ideal combination of course would be diamonds and sapphires set together in a single piece of jewelry which is sure to be a heady mix of color as well as glitter making it a statement style jewelry piece.
Is the comparison even?
Even if, to compare extreme, we consider white sapphires and diamonds, there is yet another interesting fact to look out for. Before synthetic gems came into vogue and cubic zirconia was developed, white sapphire was substituted for diamonds in jewelry.
As per experts, natural White Sapphire has always been a beautiful gemstone but comparing it with Diamonds will not be very fair because diamond is unmatchable for its sparkling brilliance. But then the market is flooded with many colorless gems that resemble a Diamond. So, whenever buying jewelry always double-check. You can also take the help of the trained gemologist, who can easily tell if you are getting the real thing or not.
How to conduct a reality check?
As for Mohs scale, a parameter of judging the hardness of mineral; Diamond, being the hardest occupies the 10th position while Sapphire scores a decent 9.
While refractive index of Diamond comes out to be 2.418, for Sapphire it remains 1.76. So in daylight, the color of rainbow around the diamond while in case of blue sapphire you will only see blue light.
Globally accepted standard for describing diamonds: Color, Clarity, Cut, and Carat Weight while Blue Sapphire being a colored gemstone, the quality depends upon Hue, Tone and Saturation rating.
In case of diamond, ideal cut represents roughly the top 3% of diamond quality based on cut that reflect nearly all light that enters the diamond. Whereas for Sapphire Cornflower blue remains to be the most popular combination of hue, tone and saturation so far.
Keep in mind, that one should buy colored gemstones by size and not by carat weight. Colored stones vary in size-to-weight ratio. Some stones are larger and others are smaller than diamond by weight in comparison.
What should you prefer then?
As per the concerned discussion, sapphire is the sturdiest stone just after diamond so it may be as efficient as an option as diamond.
But then, let us tell you the ultimate solution. You always have the perfect choice of choosing the one that looks good on you!
You may like also to read: