Emerald Engagement Rings Buying Guide
---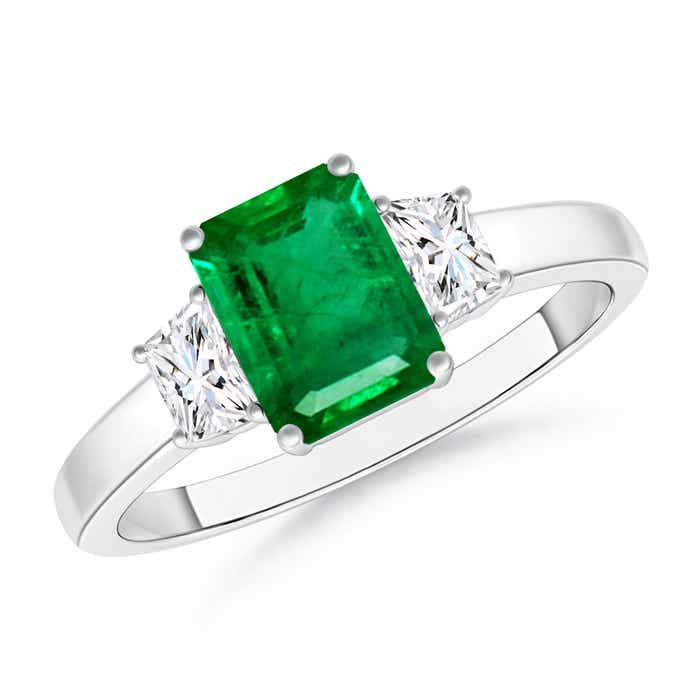 One of the most exciting times in life is the prospect of engagement and the planning of a wedding.  It takes time to find that special someone and when you do you want the physical representation of your engagement to be perfect.  Before you even propose you might want to consider doing ring shopping together.  If this kills the mystery then pair up with your fiancé's friends or relatives.  Find someone that knows her really well.  She may have discussed this with a friend and it will show initiative if you have sought the advice of a friend.  Or, she may have been "dropping" hints to you!
Quick Tips
Focus on personality type- Rings are likely to be understated or dramatic depending on personality and this makes them highly adaptable.
Design it yourself- The plus with buying an Angara engagement ring is that you are in the designer driving seat.  You can select the shape, setting and size of emerald and you can create your own design of the ring.  It would be a unique piece and that attests your involvement.
Other alternatives- Rings can be set with other gemstones such as diamonds, rubies and sapphires.  Choose according to month of birth or her preference.  The gems can come in different shapes which are very popular choices or they can be positioned with a pair of diamonds.
Discover her choice- In order to discover which engagement ring she will love and cherish most, you'll need to be observant.  If ring preferences have never been discussed, asking close ones is a wise thing to do.  Take a look at her current jewelry.  This may be of help to you.
Listen to her- Women often drop hints about what they would like.  Pay attention.  You could use a ring sizer on one of her present rings to know the size.
Budget- Budget comes first.  While you may have heard of the two month salary norm, the need is to decide how much you are willing and able to spend on an engagement ring.  You don't want to go bankrupt, and you don't want her to think of you as a miser.  Only you can decide what you can afford.  Bear in mind that you will also be purchasing a wedding band sometime later.
Her Choice- Give some thought to the jewelry she likes to wear; does she go for cutting edge contemporary, or is she thoroughly traditional.  What color metal does she usually go for - white gold, yellow gold, a mixture of the two?  Perhaps she has a thing about platinum jewelry - you need to find out.
Choose quality over size and choose the nicest engagement ring you can afford.  The jewelry industry uses the four Cs to evaluate emeralds: Cut, Carat, Clarity, and Color.
Carat- Emerald size is measured by weight in carats.  Prices rise as carat weight increases.  Choosing a slightly smaller carat weight, can save you money and still allow you to present your future spouse with a dazzling emerald.
Clarity- Most gemstones have tiny flaws called inclusions, often invisible to the naked eye.  Pay special attention to product details when deciding.  Most emeralds contain some blemishes inside and these are what give each emerald its own unique fingerprint.  Clear emeralds are quite rare and command sky high prices.  The most important thing to remember about clarity is that you do not want inclusions to be so excessive that they affect the emerald's brilliance or durability.
Clarity is a critical C and has a great effect on an emerald's value.  When emeralds are moved up on the clarity scale, you generally see a significant increase in price.
Cut- The cut of an emerald determines how well it reflects light to show its brilliance.  A standard report describes cut by the shape or outline of the emerald and the facet arrangement, also known as cutting style.  Shapes range from traditional to hearts, pears, emerald, and more.  Choose a shape that reflects the tastes of the person who will wear the stone.
A better cut will have a great effect on the beauty of the emerald.  Emeralds with correct proportions better refract the light out of the top of the stone.  Lesser cut emeralds allow some light to escape from the bottom of the stone, resulting in a less brilliant emerald.
Shape- Another factor you need to consider when choosing an emerald is its shape.  Although shape and cut are sometimes used interchangeably, they are not the same.  Cut refers to the proportions and symmetry.  Shape, on the other hand, refers to the actual shape or contour of the emerald.  There are 8 popular shapes including: round (also called brilliant cut), Princess cut, Emerald cut, Asscher cut, Marquise cut, Radiant cut, Pear cut, and Heart cut.  When you select a shape, the most important factor is simply what appeals to you.
Most common and popular shapes are as under:

Color- In a emerald, the most important aspect to be considered is color.  Color is the most important factor in determining the value of an emerald.  An emerald's color is considered more important than its clarity.  Emeralds are rarely clean and even very expensive stones can be slightly flawed.  Fine emeralds of good color and clarity are always rare and greatly valued.  Highly saturated medium or medium dark tones are best.  Emeralds that are too dark or too light are worth significantly less.
We have quality emeralds in different shapes and sizes.  You could browse for round emerald, princess emerald, emerald cut emerald, or the rarer emeralds, we have them all.  The variety of loose emeralds at Angara makes it the favorite emerald destination.
Other Things to Consider in An Engagement Ring
There are two parts you need to consider in an engagement ring:
The setting (which holds the diamond)
The band (which surrounds the finger)
The Settings
Settings can be made of platinum (even on a gold ring) because of platinum's strength and durability.  In case of a solitaire, the common choice is to get 4 or 6 prongs, 6 prongs hold the gemstone much more securely.  If the ring will be worn regularly, 6 prongs are highly recommended to avoid losing the stone.  There are other types of settings that do not use prongs.  A few of these are listed below.
Tension- The metal holds the precious stone using tension, giving the impression that the stone is floating in its setting.  This setting requires the best craftsmen to ensure the stone is held secure even though it doesn't look like it's held at all.
Channel- The precious stones are secured between two bands of precious metal, thus allowing them to be set close together.  The result is a line of emeralds with no metal showing in between.
Pave- This setting requires excellent craftsmanship and stone setting skills.  Numerous stones are set onto precious metal in the manner of paving stones - hence the term pave.  Very little metal is allowed to show through the stones and the resulting ring literally appears as if it's paved with emeralds.
The Band
The decision regarding the band is about choice of materials.  By far, the most common choices for engagement rings are white and yellow gold.  Although your choice is ultimately a matter of personal style, here are a few facts about each metal:
Gold- Gold has been popular in jewelry-making since the beginning of time, but because pure gold bends easily, it is usually alloyed with nickel, copper, and/or zinc.  The purity of gold is measured in karats.  Most gold jewelry sold in the United States is 14 karats, whereas 18-karat jewelry is more popular outside of the U.S.  Sometimes 10 karat gold offers a cheaper option, since the alloy metal is more.
Platinum- Because platinum is an extremely hard metal, its popularity in jewelry-making is not as long-lived as that of gold.  Platinum is also more rare than gold; in fact it costs roughly four times as much as gold.  However, you could settle for a white gold band.  But if your partner is in any way allergic to metals, platinum is the choice since it is hypoallergenic and will not irritate the skin.
Band Styles
There are a number of band styles to choose from, all upon preference.  There are twin shanks, two tone shanks, split shanks, crossovers and many others.  It all comes to maximum personal appeal.
Know Your Purchase
Carefully read the product details in item listings.
Figure delivery costs into your final price.  If you spend a lot of money, make sure you don't incur extra expenditure on shipping.
If you want more information, chat with our experts by clicking on link given.
You may like also to read: