Emerald Pendants Buying Guide
---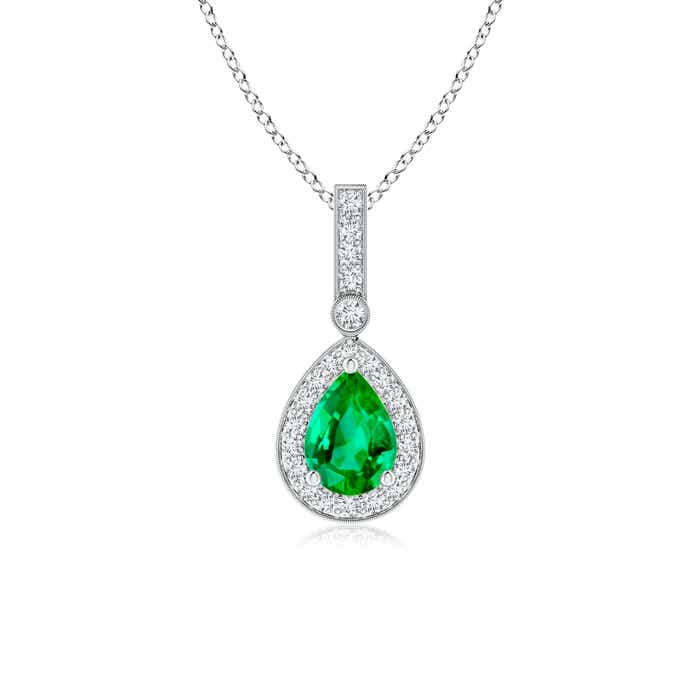 A wise system of education will at last teach us how little man yet knows, how much he has still to learn.
~ Sir john lubbock
It is with immense pleasure that we embark upon the education of our customers.  Helping you to choose an
emerald pendant necklace
from our e-catalogue is just the beginning of a long term relationship.  We are empowering you to make your best buying decision.  It is all about YOU.
A pendant or a necklace is an accessory which adds style and sophistication to any outfit.
A woman wearing a beautiful pendant necklace is assured that all eyes will be focused on the beauty adorning her neck.
Pendant necklaces make ideal presents because they last forever and make a lasting memory.  The combination of emeralds and diamonds reflect the world's natural treasures.
Tips on Choosing the Best Pendant Necklace
Choose the right length of chain: Deciding on the length of a necklace is an important decision.  The length of the necklace or chain determines where on the chest the pendant will lie.  We offer the length of any necklace to suit the style you are after.  The most popular length though, is 18 inches and is usually picked in cable, box or rope type chains.  If you have a personal chain preference we would be happy to provide the type of chain you'll most enjoy.
You definitely need a longer chain for heavier weight clothing and turtle neck sweaters.  It is a great idea to purchase multiple chains with each pendant for different necklines.  I personally recommend 2-3 different chains per pendant.short 14 - 16", medium (18") and then longer length still relating to how you will wear it.
A shorter chain will be great for slight scooped necks, sun dresses and summer attire.
With the purchase of multiple chains you are prepared for all fashion choices.
| | | | |
| --- | --- | --- | --- |
| Type of necklace | Type of clothing | Necklace length | Occasion |
| Collar style | V neck or low v cut dress or off the shoulder style top | 12"-13" | Evening formal wear or day special occasions |
| Choker | Low or strapless type tops | 14"-16" | Dressy casual, dressy and semi formal |
| Princess | Any clothing as long as it comes below the collar of the outfit | 17"-19" | From casual to formal |
| Matinee necklace | Very high collar or very low cut no in-betweens | 20"-24" | Casual |
| Opera |   | 28"-34" | Formal |
The Personal Fit
Now that you know the sizes of the necklaces and what looks good you must bear in mind that it will also zero down to where the pendant is going to rest.  We know the sizes of the necklaces but the individual size of every person wearing them is not uniform.  It is advisable to measure your neckline.  Add two inches to it and then find the necklace that you like closest to that size.  If you wish to wear it above the neckline then you can subtract from the measurement.
Chain Clasps
Jewelry clasps are functional components used to securely connect two ends of a piece of jewelry.  Some clasps are basic, while others are bold, and an important part of the chain's design.
Spring Ring Clasps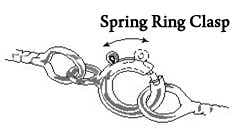 A fairly popular clasp type is the spring ring clasp.  Spring rings work well on all types of designs.  The spring on the inner rim of the clasp allows opening and closing.  Spring Ring Clasps are commonly used to secure not only chains, but also bracelets and anklets.
Lobster Claw Clasps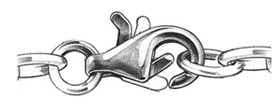 Another popular clasp is the lobster claw, which has a more narrow profile and can be requested.  The shape is elongated oval compared to the round shape of the spring ring clasp.  It is all about personal taste and issues with manual dexterity.  If you have any arthritis in your hands then you will only want a lobster claw clasp.
Chain Types
There is a wide variety in types of chains used for pendants, such as box chain, curb chain, cable chain, figaro chain, rolo chain, rope chain and a host of others.  Among all these, cable chains are the most popular.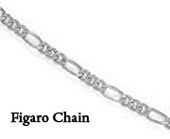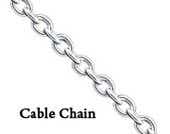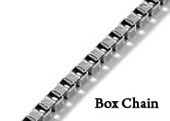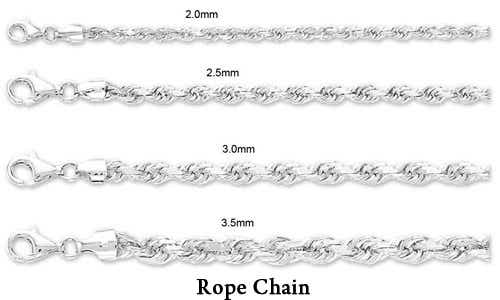 Realistic Sizes: Comparison

Budget Buys
For those on a budget the good news is that you could find a bargain with our bestseller sales and clearance section.  It is good to remember that you will have this for years.  You aren't buying it for one day or single occasions.think about buying it to own for life.
We strongly recommend the solitaire pendants, since they are classic.
At the end of the day you should feel stylish with the jewelry that you wear.  Sometimes your jewelry can be your very best friend---it always makes you feel good and will be there when you want to put a smile on your face.  Often the meaning of a piece of jewelry outweighs everything else.
Care of Your Pendant Necklace
Proper storage of your necklaces is important.  The simplest way of keeping your necklaces in proper condition is to keep them in the boxes they came in.  Do not pile one necklace upon another or keep them in such a way that they scrape up against each other.  The boxes are a means of protection for the metal and the gemstones.  It is not a good idea to have them piled up in one box or one jewelry box.  Ensure the boxes are lined so the necklace doesn't get scratched over time.  Don't store your chains where they are going to be bent.  This weakens the links.
Why Buy from Angara
There are many reasons to buy from Angara.  The first reason relates to our very competitive pricing.  We can afford to sell at such prices because we don't deal with middlemen.  This significantly lowers our cost and we are happy to pass that savings on to you.  Customers often ask how we can afford to sell so reasonably.  This is how we do it.  Also, we don't print up big paper catalogs and we don't have retail stores.  We keep our overheads low to focus on the important things.  We don't waste our money and we respect your money.
Our quality is absolutely uncompromised.
another distinguishing thing about Angara is that we are not sitting here with thousands of rings and pendants already made up.  Many of you have told me that this is the scenario you visualize.  We want you to visualize the reality of Angara.  We have actual live specialists that respond to your wishes with our offers of good, better, best and heirloom quality.  Your stones are personally selected by actual real personal jewelers that give you the stone you wanted and read about in product details on the website.  Real people are working on your selection.  We provide all of these choices plus custom made and designed jewelry.  Your personal choice is very personal to us.
Our company truly believes in fostering long term relationships with customers through trust, communication and complete satisfaction.  We are your "forever" jeweler.  We are the people who will personally select your stones, suggest great designs and help you celebrate your special life cycle events.  Our 30 day return policy will give you ample time to try the pendant on, bond with it and know if you want to wear it in your family photos.  If this one doesn't work for you, then we are here to simplify the return and exchange policy.  We want to reassure you that we have a team of qualified gem professionals who extend their assurance via our certificate of authenticity.  Every gem undergoes close scrutiny before it is offered to our customers.
You may like also to read: