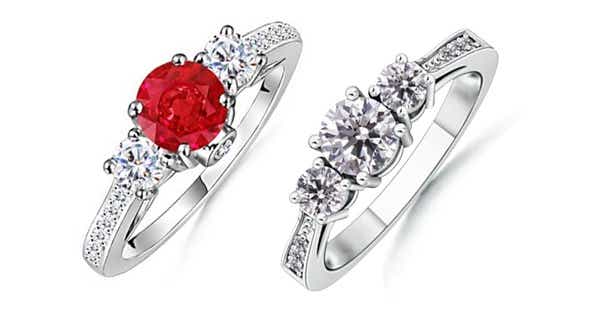 What's makes up an engagement ring?
An engagement ring consists of a stone, a setting and a band. The stone refers to the central gem, which is traditionally a diamond, but can be any durable gemstone. The setting holds the stone in place and attaches it to the round band, which is the circular part of the ring. The band may be set with diamonds to show off the central stone.
What do I need to know about diamonds?
How do I know which ring she wants?
If you can't ask her subtly about her taste in rings, consider her taste in clothes and other accessories: does she usually wear classic, simple styles? Or does she prefer a bold, jazzy look? Perhaps she'd prefer a colored stone if she's creative and artsy. Remember that you can always ask her friends and family for their opinions. Also consider whether she's concerned with social justice and would want certified, Fair Trade gold and a certified, conflict-free diamond. Angara complies with the Kimberley Process to offer you only conflict-free diamonds.
How can I find her ring size without asking her?
Ask her mother, sister or best friend
Use the free ring sizer on the ring finger of her left hand while she's asleep
Borrow a ring she wears from her jewelry box to trace the inner circumference onto a piece of paper
Borrow a ring she wears from her jewelry box and slide it onto a candle; mark where it comes to rest and take the candle with you to the jeweler
How much should I plan to spend?
Convention states about two month's salary, but the final choice is up to you!