Tanzanite Care Guide
---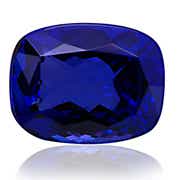 Tanzanite is a gemstone that measures 7 on Mohs' scale. Which, in simple terms, means that tanzanite is a relatively soft stone compared to Sapphire or Ruby. Especially, when Tanzanites are studded in rings, they look extremely attractive. Just as desirable, one must avoid heavy manual work like gardening or house-hold chores, so that the stone surface does not scratch. Naturally, it is recommended to take off the Tanzanite Ring before engaging in such labor, but if you do wear your tanzanite jewelry regularly, make sure you are attentive in where it's worn.
Most diamond, sapphire or ruby jewelry can be cleaned with ultra-sonic devices or machines. These are very hard composition stones and can sustain the pressures of heavy cleaning. However, it is not advisable to clean Tanzanite Jewelry in the same fashion. For cleaning a tanzanite, use mild detergent water and rinse thoroughly. Use a soft cloth to wipe off all stains, including fingerprints for the best results.
Additional Tanzanite Tips
Avoid wearing your tanzanite jewelry at the gym as it may come in contact with heavy machines. In addition, when doing the dishes, it's best to wear gloves or take the ring off before starting. The ring can safely be placed in a cup, saucer or on a plate. Your tanzanite jewelry is guaranteed to impress and dazzle anyone who comes across it. Make sure to select a design that magnifies the beauty of the gemstone. May it always put a smile on her face and last for generations to come.
You may like also to read: